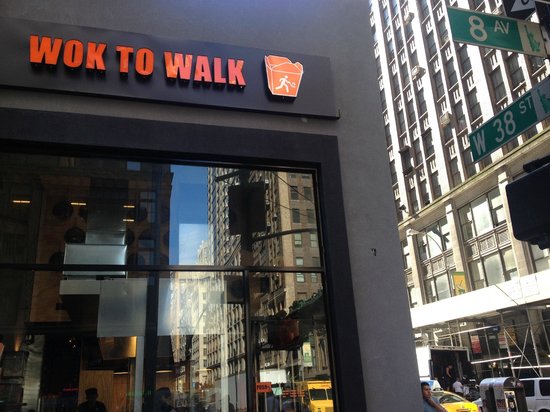 If you know me well, you know that I'm not a big fan of the chain restaurant. The food is formulaic, overseasoned, overcooked, and overhyped. They typically bore me to tears, and leave me wanting for more. I definitely enjoy casual dining, but tend to lean toward the mom and pop delis, local cafes, or hole-in-the-wall joints. Perhaps all the years we spent living in Sydney has also made me love a good old takeaway shop – a place to grab a decent bite on the run. Welcome to my absolute favorite takeaway – Wok to Walk. Specializing in stir-fry Asian cuisine, Wok to Walk (based in, of all placed, Amsterdam) now has four locations in New York City (plus one in Brooklyn, one in Hoboken, and one in Newark).
Wok to Walk has a formula you've probably seen before: choose your base (noodles, rice, quinoa, or veg – all include a veg mix and an egg, unless you ask otherwise), your favorite ingredient(s) (chicken, steak, bacon, pork, salmon, prawns, tofu, bok choi, mushrooms, peppers, pineapple, cashews, baby corn, bamboo shoots, or broccoli), a sauce (teriyaki, curry, sweet & sour, garlic and black pepper, oyster sauce, hot soybean, peanut, etc), and a topping (fried onion, peanut, sesame seed, fried garlic, coriander, jalepenos, ginger).
Your order is made fresh to order over an insanely hot wok, chucked into a pretty sizable cardboard box, with a napkin and set of chopsticks. Really, what more could you ask for?
Wok to Walk is definitely one of our family favorites, and we find ourselves there (a little too) frequently. There is a location very convenient to Grand Central Terminal (one block east). So, if you are connecting trains, fetching the next Metro-North, or just passing through midtown, it's worth a stop in.