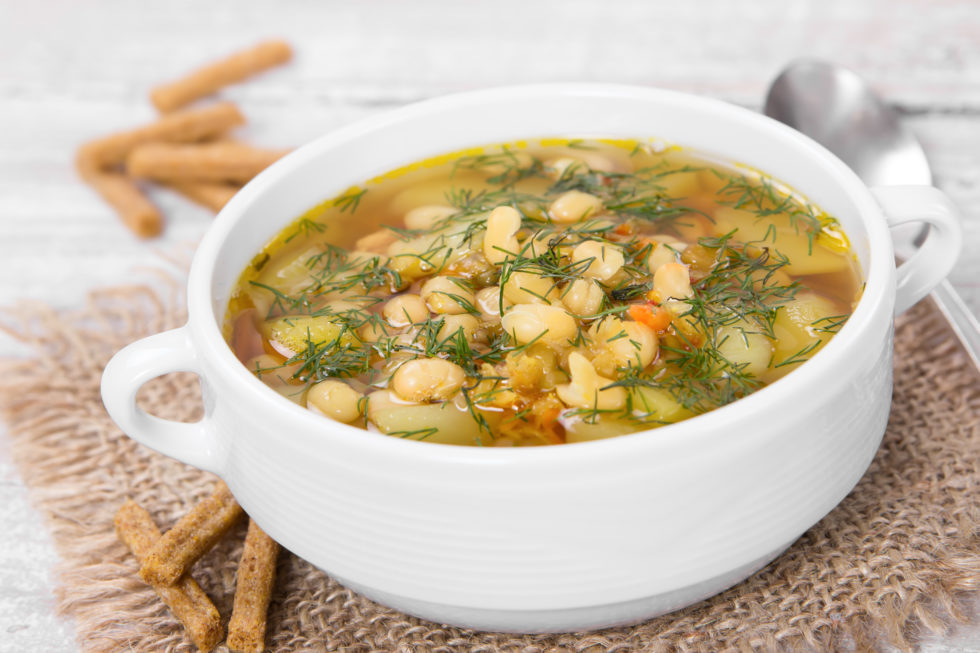 This is a delicious, hearty recipe for a navy bean soup that's sure to please everyone! While the Instant Pot makes it super quick, it can be done on the stovetop (see recipe notes). This soup is satisfying, filling, and full of flavor. This recipe makes a lot of soup, but refrigerate and eat it for lunch the next day – might even taste better as the flavors continue to come together!
I might note that with the ham and the chicken stock, it's easy to find that it's over salted, so you may opt to use a low-sodium stock, or go easy on the salt. You can always add more at the dinner table, but it's not easy to fix over-salted soups!
Enjoy this comforting soup on a cold night (or any time of year, really). Best served with warm, buttered sourdough – really makes it indulgent!
Instant Pot Navy Bean Soup
TOTAL TIME: 30 MINUTES
PREP: 15 MINUTES | COOK: 15 MINUTES
YIELD: 8-12 SERVINGS
LEVEL: INTERMEDIATE
Ingredients
1 pound/454 grams navy beans (pre-soaked)
1 Tbsp olive oil
2 carrots, diced
1 medium onion, diced
2 stalks celery, diced
3 cloves garlic, minced
1 pound/454 grams diced ham
4 cups chicken stock
2 cups water
1 tsp salt
1 tsp fresh black pepper
1 tsp thyme
1 tsp paprika
1 pound/454 grams ditalini pasta
Instructions
Add the olive oil to the Instant Pot, and press Saute button. Once it shows "Hot", add the celery, carrots, and onion. Stir for about 5 minutes, until the vegetables are soft and tender. Add the garlic, and continue to saute for another minute or two.
Add the chicken stock, thyme, paprika, salt and pepper, ham and water to the pot. Once simmering or boiling, add the pre-soaked navy beans. Close and lock the lid, place the Instant Pot into high pressure mode and cook for 15 minutes.
Once the pressure cooking is done, and the Instant Pot beeps, allow for natural pressure release for about 10 minutes. You can then quick release until all pressure is out. Remove the lid, and place back into Saute mode. Bring the soup to the boil, and add the ditalini pasta. Cook for about 7-8 minutes (about 2 or 3 minutes less than instructions on the pasta show, as it will continue to cook in the soup).
Serve with a shave of parmesan cheese, and some fresh, warm, sourdough bread. F0r an extra kick, sprinkle some fresh dill on top.
Notes
If you don't have an Instant Pot, get one! If you don't want one, the above recipe can easily be made on a conventional stove top. Simply add the ingredients, as above, to a pot on high heat. Once the vegetables are soft and tender, add the stock and the pre-soaked beans. Reduce heat to medium/medium-low and simmer about an hour. Check the consistency of the beans. If still firm, continue to simmer an addition 15-30 minutes. Then, bring to the boil, add the pasta, and serve.