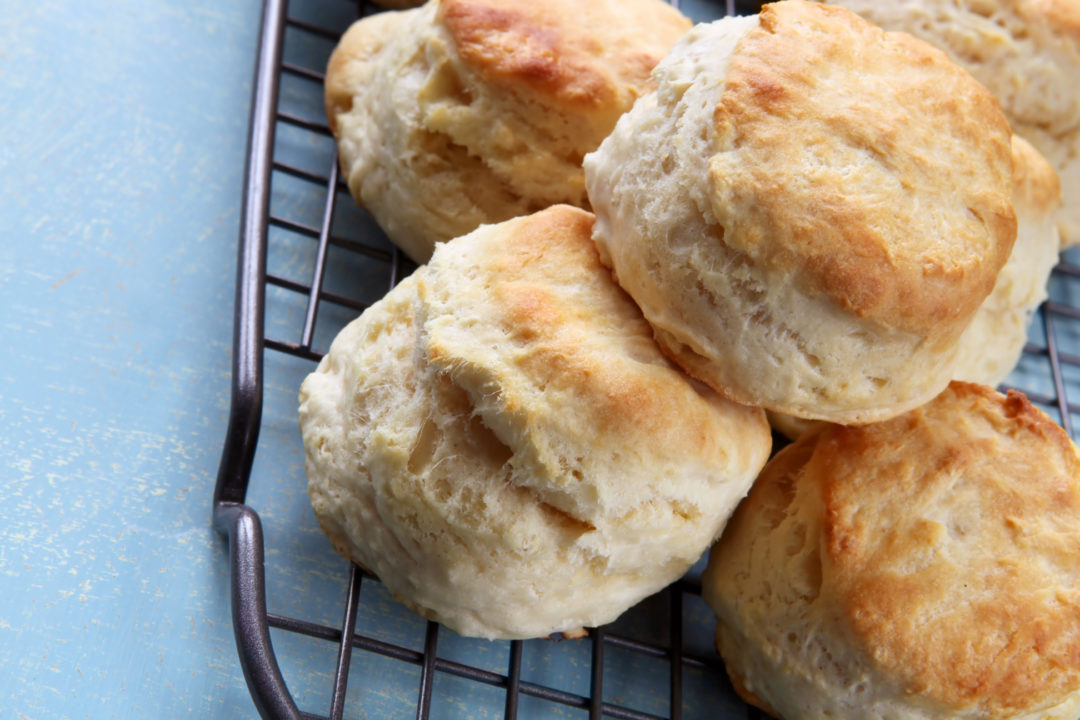 Sometimes, there is just nothing better than a warm, buttery, biscuit. It screams good morning, Sunday, I'm ready for the day!
We've taken a good old biscuit and kicked it up a notch (or two). Indeed, it's a guilty pleasure, but it's worth it. Served warm, with a bit of raspberry jam, local honey, or our favourite – lemon curd – you can't go wrong with this simple, four ingredient (one of them is a box of Bisquick!) recipe. We know you'll love it!
Melt In Your Mouth Biscuits
TOTAL TIME: 22-25 MINUTES
PREP: 1O MINUTES | COOK: 12-15 MINUTES
YIELD: 12-18 BISCUITS (DEPENDS ON SIZE)
LEVEL: INTERMEDIATE
Ingredients
4 cups Bisquick
1 cup sour cream
1 cup 7-Up, Sprite, or Ginger Ale
1/2 cup salted butter, melted
Instructions
Preheat the oven to 450F/230C.
Cut the sour cream into the Bisquick using a pastry blender, a fork, or your fingers. Mix until you get a bread crumb consistency.
Stir in 1/2 cup of soda (any clear soda will work ok). Once you mix in, be prepared – the dough is very sticky and soft. It's ok, it's meant to be this way!
Sprinkle some additional flour or Bisquick onto a counter, or pastry mat. Knead the dough, continually folding until completely coated in the flour or mix. Pat the dough flat and roll into a smooth circle. Cut the biscuits using a biscuit cutter or cookie cutter. Set aside and keep going until all the dough has been cut.
Add 1/4 cup of salted butter to each of two 9-inch round cake pans. You can add melted butter, or do as I like, and add the cold butter to the pan, stick in the oven for about two minutes and let it melt. Keep in mind, you don't want burnt butter – so keep your eyes on it!
Place the cut biscuits on top of the melted butter and bake for 12-15 minutes or until they just start to brown on the tops.