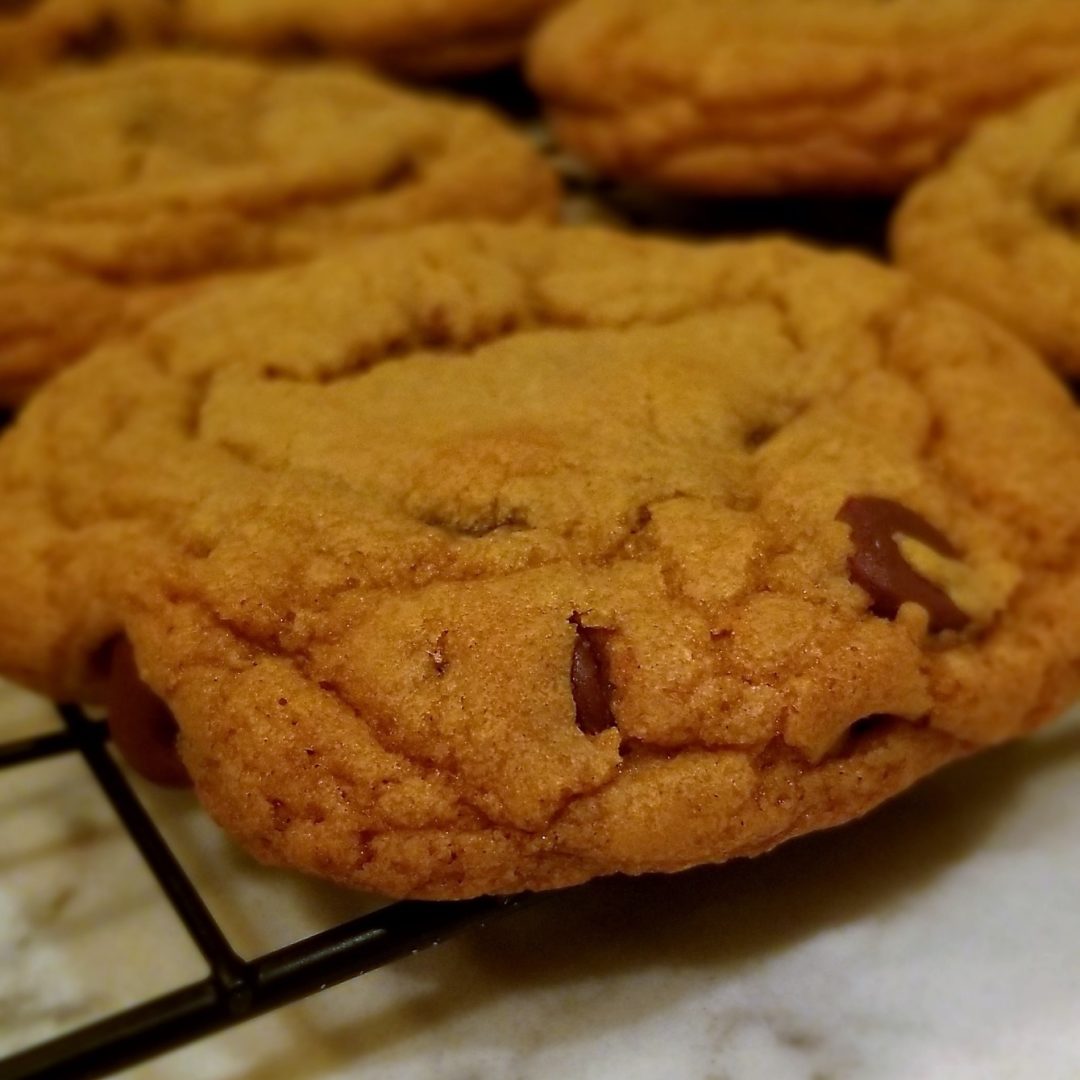 Ever in search of the perfect chocolate chip cookie, I present you this recipe! It uses a couple of unexpected ingredients – namely cornstarch and maple syrup. Yes, the dough has to be chilled, and it's a bit more time consuming than the recipe on the bag of chocolate chips. But, the result is a chewy, thick, deliciously sweet (but not over-the-top), indulgent cookie.
This recipe is sure to please, but I don't expect the cookies will last long!
Enjoy!
The Perfect Chocolate Chip Cookie
TOTAL TIME: 1 HOUR
PREP: 45 MINUTES | COOK: 13 MINUTES
YIELD: ABOUT 3 DOZEN COOKIES
LEVEL: INTERMEDIATE
Ingredients
1 cup/226 grams butter
1½ cups/315 grams light brown sugar
½ cup/115 grams white granulated sugar
2 large eggs, room temperature
1 tsp pure vanilla
¼ cup/60 mL pure maple syrup
3¼ cups/460 grams all-purpose/plain flour
2 tsp cornstarch
1 tsp baking powder
1 tsp baking soda
1 tsp salt
2 cups chocolate chips
Instructions
Melt the butter and let it cool for 5-10 minutes.
While the melted butter is cooling, sift together the flour, cornstarch, baking powder, baking soda, and salt. Set aside.
Add the cooled (but still melted) butter to both the white and brown sugars, and mix at medium speed until well-blended. Add in the room-temperature eggs, one at a time. Mix well after each egg is added to the mix.
Stir in the vanilla and the maple syrup and mix and medium speed for another minute or so.
Add the flour mixture to the wet ingredients and mix well, but don't overdo it. We want a nice soft, chewy cookie, and too much mixing will result in a tougher cookie.
After you've thoroughly mixed in the flour and the wet ingredients, add in the chocolate chips. Incorporate with a wood spoon, not the mixer!
Chill the dough at least 30 minutes (and up to four hours). Preheat the oven to 350ºF/180ºC shortly before removing the dough from the refrigerator.
After the dough is chilled thoroughly, form balls about 2 – 2½ tablespoons on a Silpat or parchment-lined baking sheet. Dough balls should be at least 2 inches apart, and should be a bit taller than they are round.
Cook for 13 minutes. The cookies will look a bit underdone when you remove them from the oven – this is normal! Let them rest on the cookie sheet for just a minute or two, then transfer to a wire rack to cool. Continue the process, but be sure that you're using a cool sheet/Silpat/parchment for each batch – don't place the dough onto a hot sheet!
Notes
Always use real vanilla, and real maple syrup. The imitation vanilla gives an odd chemical flavor, and pancake syrup is just not ok!