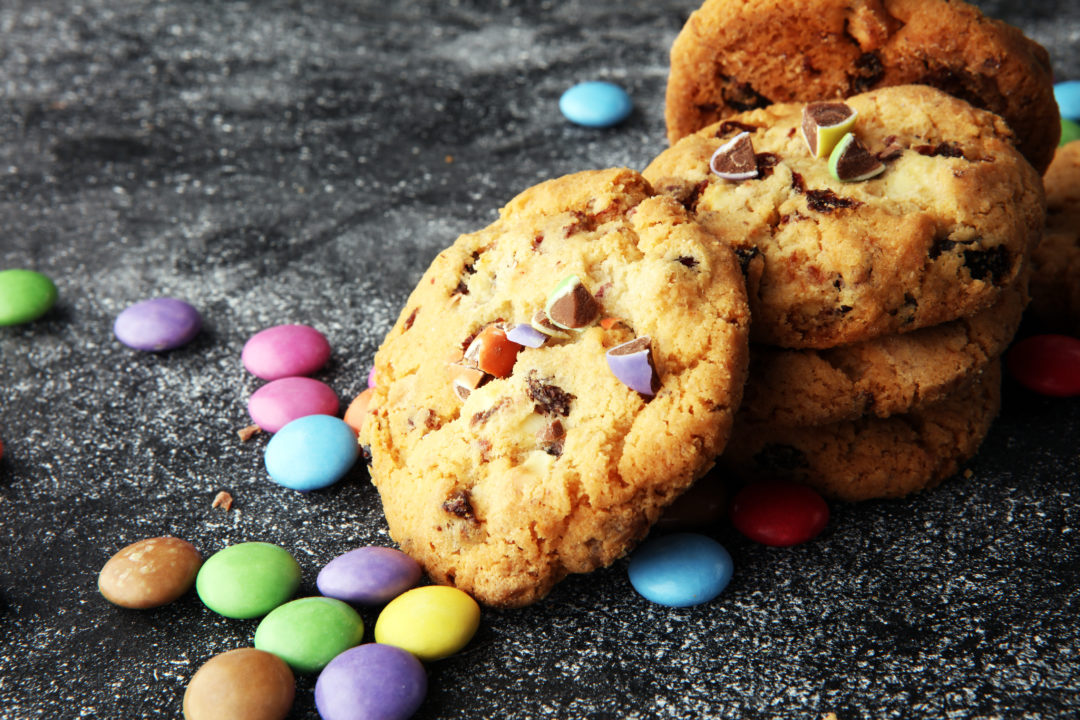 There are few better treats at an Aussie cafe than a Smarties cookie. Similar to an M&M, Smarties are about half again bigger, have a crunchier candy shell, and are more pastel in color. While you can certainly use M&M's, do yourself a favor and try these – at least once.
I will note that there is a difference between the Aussie Smartie and the British Smartie. Orange Smarties from the UK actually do have an orange flavor (there is orange essence in the candy shell), while the Aussie ones are just plain chocolate. We've been fortunate enough to be able to buy loads of Smarties on recent trips to Canada, and they are very similar to the Australian candies. So, if you're using British Smarties – you've been warned!
Regardless, this is very fun, festive looking cookie. I am sure that part of the reason our family loves them so much is because the evoke memories of warm, lazy Saturdays at Warriewood Beach – flat white and Smarties cookie in hand. So, bake these, and on your first bite, close your eyes, and think of that – promise it'll make them even that much better!
Smarties Cookies
TOTAL TIME: 25 MINUTES
PREP: 15 MINUTES | COOK: 10 MINUTES
YIELD: ABOUT 3 DOZEN COOKIES
LEVEL: INTERMEDIATE
Ingredients
1 cup/220 grams sugar
½ cup/ 80 grams brown sugar
2 cups/250 grams plain (all purpose) flour
1 tsp baking soda
¼ tsp salt
¾ cup Smarties
¼ cup mini chocolate chips
13 Tbsp/190 grams salted butter, softened
2 eggs
Instructions
Preheat the oven to 350ºF/180ºC.
Sift the flour, sugar, baking soda, and salt together into a mixing bowl. Add the mini chocolate chips and Smarties into the mix.
Mix in the softened butter, and beat in the eggs, one at a time. Beat well to ensure all ingredients are mixed well, but don't overdo it – you still want a nice soft(ish) cookie.
Drop the mixture by heaped teaspoon onto an ungreased baking tray. Keep the cookies a nice distance from each other, as they will spread.
Bake for 10-12 minutes, until the edges are just browning. Cool for about one minute on the baking tray, then move to a wire rack.
Notes
While you can use M&M's for this recipe, we STRONGLY suggest that you use Smarties. Yes, they're that much better!