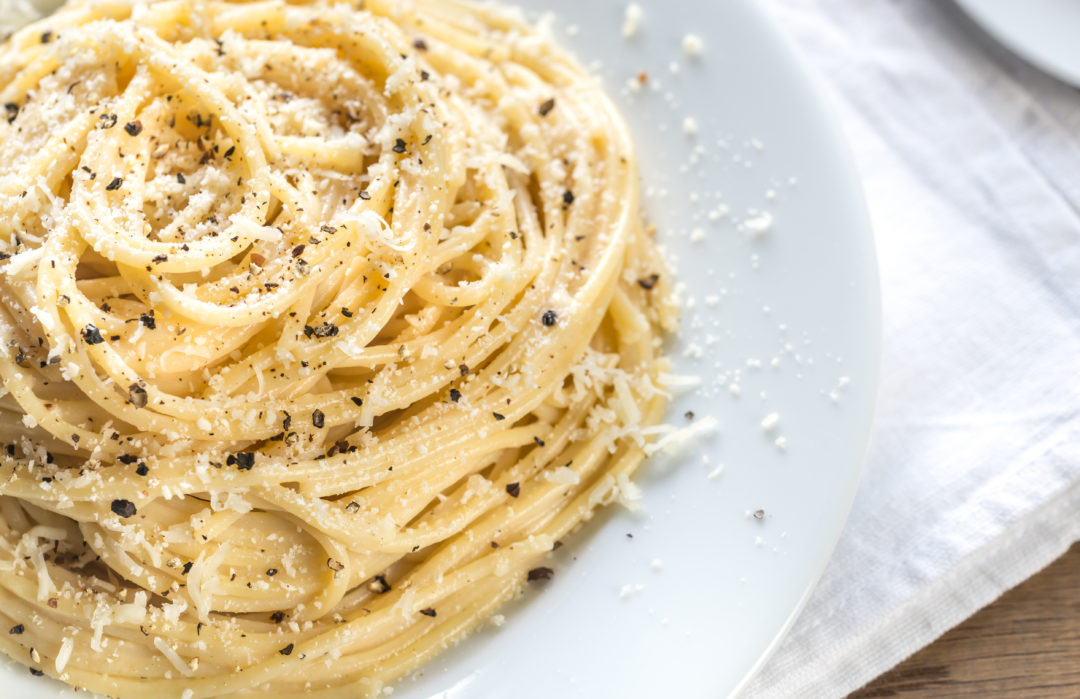 This simple, yet complex recipe is authentically Italian, and surprisingly delicious. It's beauty is in its simplicity. Literally meaning cheese and pepper, cacio e pepe is a delightful, complex, precise, yet very simple dish. It is minimalist to be sure, but if you don't take it seriously, I assure you things will go pear-shaped in a hurry!
An elegant, creamy dish, cacio e pepe requires pan-sauce precision. It also requires top quality ingredients. You'll want freshly cracked black pepper (you definitely want to notice the heat in this dish), and authentic cheese – Grana Padano or Parmeggiano Reggiano (creamy, bity and smooth), and Pecorino Romano (sharp and bity). You'll also want a very good pasta – I absolutely prefer Bucatini – a hollowed out spaghetti that allows the sauce to permeate the outside and the inside!
You may need to give this one a couple of tries before you perfect it, but once you do, it'll be a regular addition to your pasta repertoire.
Cacio e Pepe
TOTAL TIME: 30 MINUTES
PREP: 20 MINUTES | COOK: 10 MINUTES
YIELD: 4 SERVINGS
LEVEL: EASY - INTERMEDIATE
Ingredients
12 ounces/340 grams pasta (we prefer Bucatini)
3-4 teaspoons fresh cracked black pepper (to taste)
1½ cups Grana Padano or Parmigiano Reggiano, finely grated
1 cup Pecorino Romano, finely grated
Instructions
Boil about 4 quarts of water and season generously with salt. Once boiling, add the pasta, stirring occasionally.
As the pasta is boiling, warm a skillet over medium heat. Once hot, add the grated pepper and cook. Push around the pepper with a wood spoon, or simply swirl the skillet. The pepper will toast in about one minute.
Add about 1 cup of pasta water to the skillet and bring to a simmer. Add the pasta once it's cooked to about 2 minutes less than the directions suggest. Immediately reduce the heat to low and add the grated Grana Padano or Parmigiano Reggiano. Stir together and toss the pasta and cheese with your tongs until the cheese is melted.
Remove the pan from the heat completely and add the grated Pecorino Romana, again stir and toss with your tongs until the cheese is melted. The 'sauce' will completely coat the pasta, which is perfectly al dente. If the pasta feels dry, add a bit more pasta water. Transfer quickly to a warm dish and enjoy.
Notes
A few important notes about this very simple, but delicate recipe:
I like to use a Microplane to grate the cheese. It gets it very finely grated, allow it to melt quickly and easily.
Be mindful of the temperature of the water before you add your cheese. Too hot, and the cheese will separate, coagulate, and become a gloppy mess.