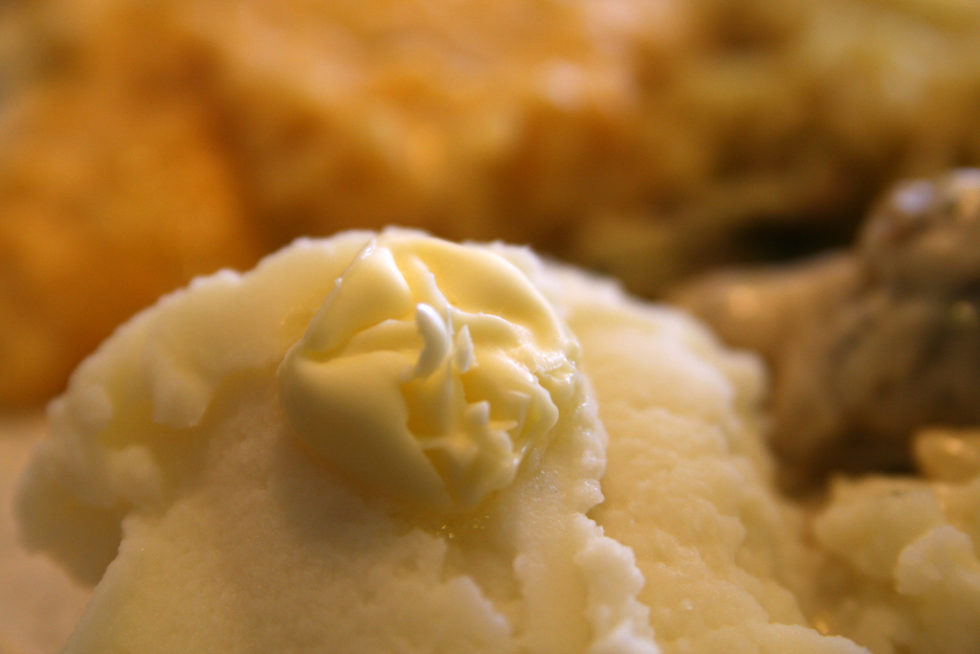 We are mashed potato traditionalists here! Just because we like them old-school doesn't mean we don't like them to be full of flavor, creamy and delicious. Use a good potato (Yukon Gold), nice heavy cream, quality butter and an adequate amount of salt and pepper, and you're sure not to be disappointed.
Enjoy on your Thanksgiving table, or any time throughout the year.
Simple Mashed Potatoes
TOTAL TIME: 30 MINUTES
PREP: 15 MINUTES | COOK: 15 MINUTES
YIELD: 10-12 SERVINGS
LEVEL: EASY
Ingredients
4 pounds/2 kg Yukon Gold potatoes (peeled and cut into 2 inch/5 cm squares)
Coarse salt
1/2 cup whole milk
1/2 cup heavy cream
1/2 cup (1 stick) unsalted, softened butter
Fresh ground pepper
Instructions
Add peeled and cubed potatoes to a large pot and cover with cold water. Add 2 tablespoons of salt and bring water to a boil. Reduce heat to medium-low, and simmer until soft – about 10 minutes. Drain potatoes in a strainer.
Add the potatoes back to a bowl of an electric mixer (or back to the pot if using a handheld mixer). Add the milk/cream mixture, butter and more salt and pepper (to taste). Mix on low speed for a minute or two, the slowly increase speed until you achieve your desired consistency. We like a very smooth mash, so mix for about 4-5 minutes.
Notes
We are mashed potato traditionalists, so keep our recipe pretty basic. Feel free to add crushed garlic or Parmesan cheese, and/or diced chives, for an extra kick.