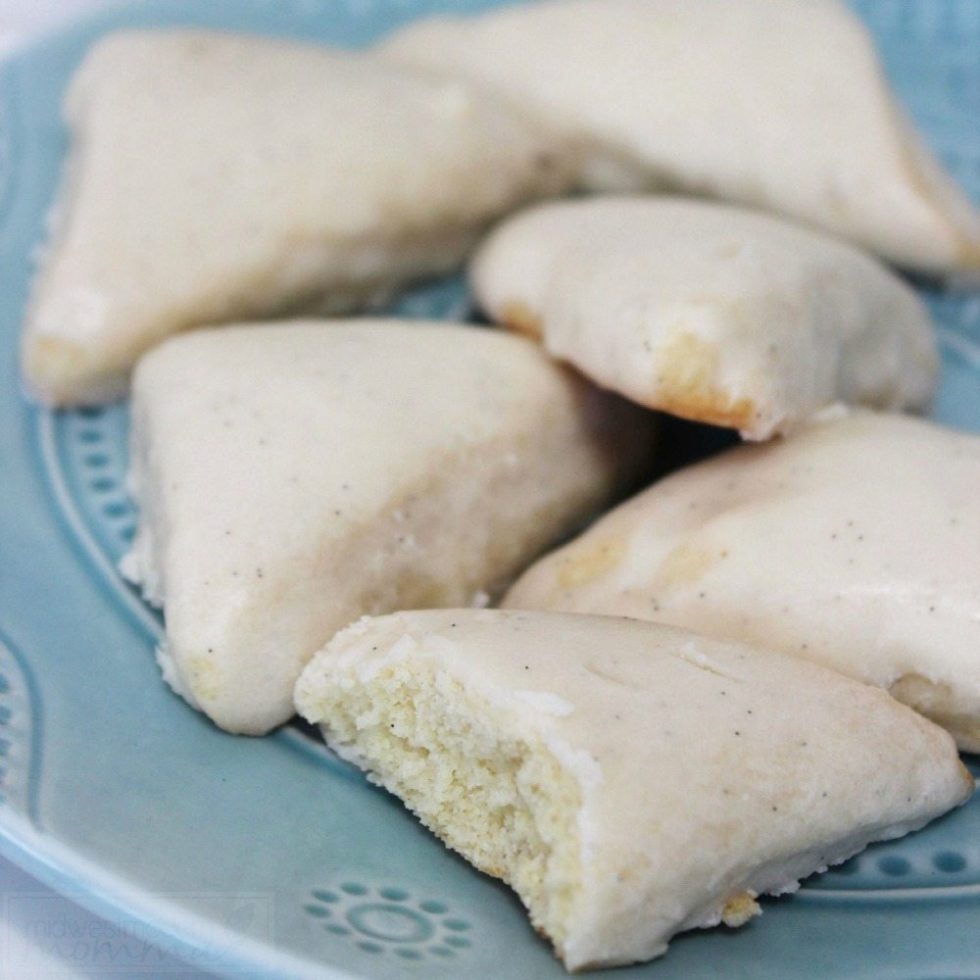 If you enjoy Starbucks® petite vanilla scones, you're going to love this recipe. They are a crowd pleaser – moist and soft in the middle, with a rich vanilla bean flavor.
Petite Vanilla Bean Scones
TOTAL TIME: 42-44 MINUTES
PREP: 30 MINUTES | COOK: 12-14 MINUTES
YIELD: 18 SCONES
LEVEL: INTERMEDIATE
Ingredients
For the scones
2 cups all purpose flour
6 tablespoons sugar
1/2 teaspoon salt
1 tablespoon baking powder
3/4 cup heavy cream (plus 1 tablespoon, kept aside)
1 large egg
1 tablespoon vanilla bean paste
6 tablespoons cold unsalted butter
For the glaze
1 cup powdered sugar/icing sugar
1 1/2 tablespoons milk
1 1/2 tablespoons heavy cream
1 tablespoon vanilla bean paste
Instructions
Scones
Preheat your oven to 400F/205C. Line a large baking sheet with a Silpat or parchment paper.
In a large mixing bowl, whisk together the flour, sugar, salt, and baking powder. Mix for about 30 seconds and set aside. In a separate mixing bowl, whisk together 3/4 cup of heavy cream, the egg, and the vanilla bean paste until well combined. Place this bowl into the refrigerator until you're ready to use it.
Add the cold butter, in small cubes, to the flour mixture. Use a pastry blender (or a fork) to bring together until it resembles bread crumbs. Add your cream mixture to the flour and stir until it just comes together – do not overmix! Flour your hands a bit, and then knead together in the bowl until well combined. Keep in mind the dough will be quite sticky.
Empty the mixture onto a well floured surface and pat into a square – about 7×7 in/18x18cm. Cut into 9 equal squares, and then again cut each square on the diagonal. You'll now have 18 triangular scones. Transfer each triangle carefully onto the baking sheet. Brush each scone with the remaining 1 tablespoon of heavy cream.
Bake in preheated oven for about 12-14 minutes. Cool on a wire rack.
Glaze
Whisk together the powdered sugar/icing sugar, heavy cream and milk. Add in your vanilla bean paste until you achieve the right consistency. If too thin, add more sugar; if too thick add a touch more milk. Spoon the glaze over the slightly cooled scones and serve once glaze sets.
Storage
You can keep your scones at room temperature or refrigerated, but be sure they are in an air tight container.
Notes
If you prefer not to glaze your scones, you can add a sprinkle of coarsely ground sugar to each scone once you brush the heavy cream on top. Bake as normal.