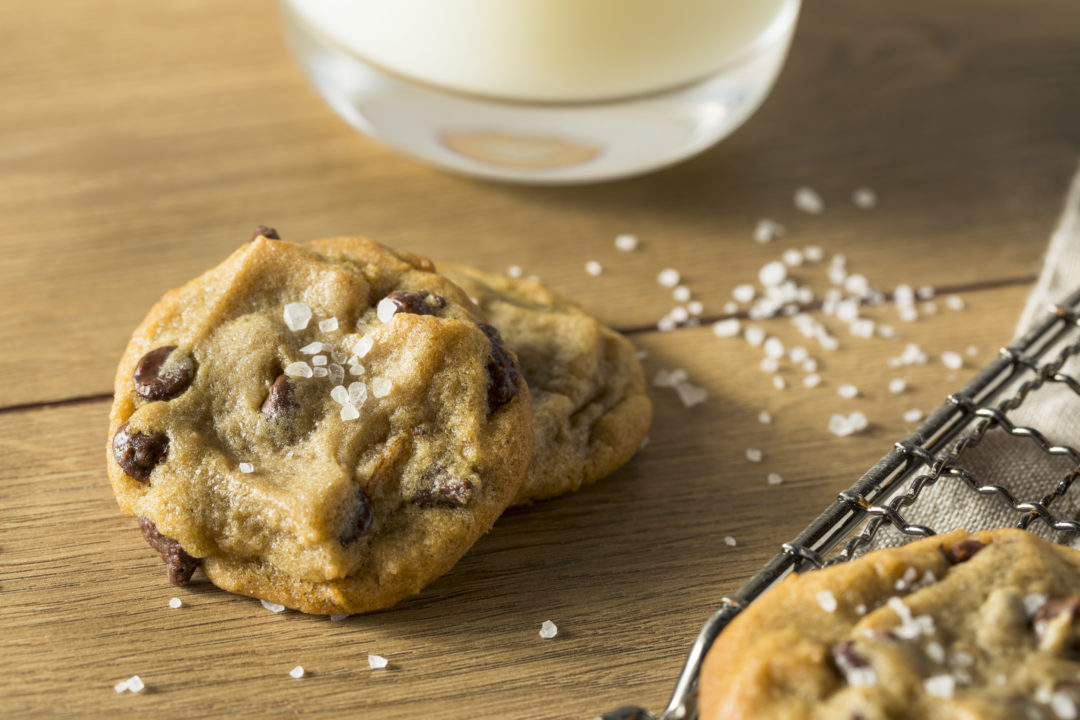 These indulgent salted caramel chocolate chunk cookies are sure to please. With just the right balance of salty and sweet, paired with the rich caramel flavor and big chunks of delicious chocolate, you'll be sure to include these cookies in your repertoire!
As with any good cookie, a few things are critical: top quality ingredients, silicone baking sheets, and chilling your dough before baking. These are simple tricks that will ensure your cookies are soft, chewy, and delicious.
Enjoy!
Salted Caramel Chocolate Chunk Cookies
TOTAL TIME: ABOUT 2 HOURS
PREP: 1 HOUR 45 MINUTES | COOK: 11 MINUTES
YIELD: 8-10 SERVINGS
LEVEL: MEDIUM
Ingredients
1 cup (2 sticks) butter, room temperature
1 cup granulated white sugar
1½ cups brown sugar
1 Tbsp pure vanilla extract
2 eggs
½ cup caramel sauce
4 cups all-purpose flour
½ tsp baking powder
1½ tsp baking soda
½ tsp salt
2 cups semi-sweet chocolate chunks
2 Tbsp sea salt for sprinkling on top after baking
Instructions
In a large bowl cream together softened butter with both white and brown sugars in a stand or hand mixer until combined and fluffy (about 2 minutes)
Add in vanilla and eggs, beat until combined, scrape down sides of the bowl with a spatula.
Pour in caramel and beat until incorporated, scrape down the sides of the bowl with a spatula.
In a separate bowl, mix together the flour, baking powder, baking soda, and salt.
Slowly add the flour mixture to the dough and mix slowly until combined.
With a wooden spoon, stir in the chocolate chunks.
Place dough in the refrigerator to chill for about an hour.
Preheat oven to 350ºF/175ºC, line two baking sheets with silicone baking mats or parchment paper.
Scoop dough with a 1 tablespoon size cookie scoop and scoop onto prepared cooking sheets. Place about 2 inches apart to get a dozen cookies on the sheet
Bake cookies for about 11 minutes, until edges are very slightly golden brown (centers will be soft). Remove from oven and immediately sprinkle with sea salt.
Let cookies cool on the baking sheet for a minute or two, then transfer to a cooling rack.
Notes
A few things here – as with any recipe don't use imitation vanilla! Vanilla is rudely expensive these days but it will make a massive difference. Secondly, I'd suggest a good quality caramel sauce. I like to use Ghirardelli, but any will do ok. I may suggest staying away from the super cheap versions – they aren't actually caramel!