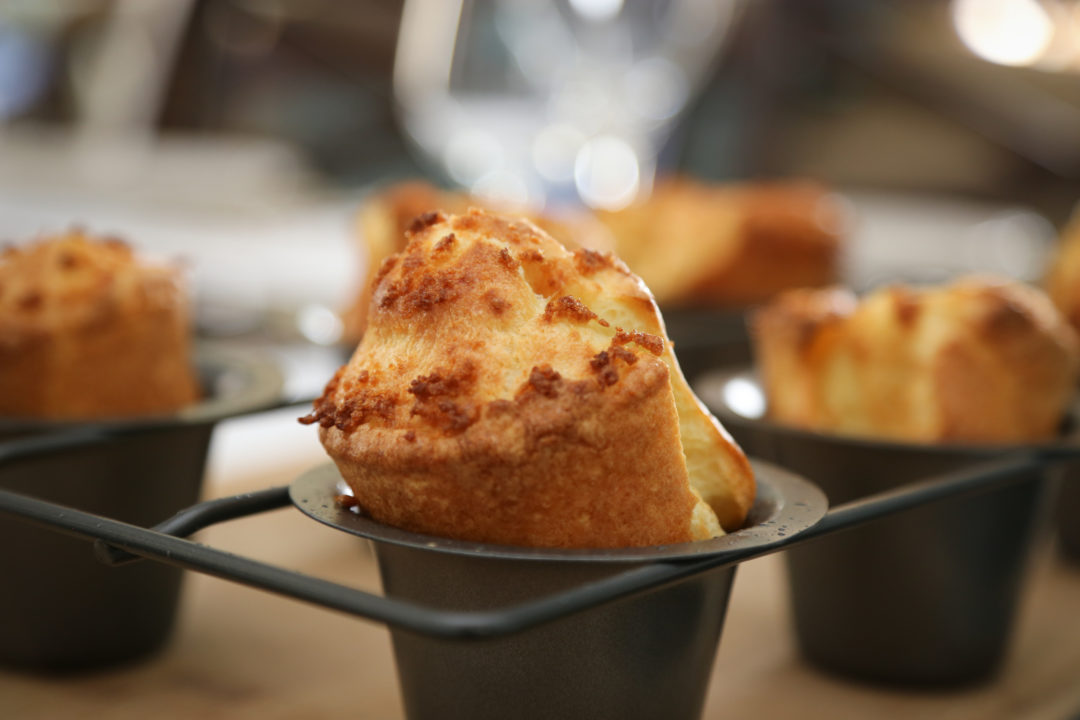 Growing up, I used to get dragged to the mall with my mom and grandmother on a weekly basis! While I easily bored of shopping, I always looked forward to regular lunches at Neiman Marcus. Sure, the soup or salad or sandwich was great, but let's be clear – I was there for the popovers!
This recipe is as close as I can get to those delicious, warm, airy popovers of my childhood.
Paired with homemade strawberry butter (recipe below), these are about as good as they get!
Neiman Marcus Popovers
TOTAL TIME: 2 HOURS
PREP: 1 HOUR 15 MINUTES | COOK: 45 MINUTES
YIELD: 12 POPOVERS
LEVEL: INTERMEDIATE
Ingredients
Popovers:
3½ cups milk
4 cups all purpose flour
1½  tsp salt
1 tsp baking powder
6 large eggs (room temperature)
Strawberry Butter:
1½ cups salted butter, room temperature
1 cup of best quality strawberry preserves
Instructions
Warm the milk (stovetop or microwave). You want the milk warm, but not hot.
Sift flour, salt, and baking powder in a large mixing bowl.
Crack eggs in the bowl of an electric mixer and whisk for on medium for about 3 minutes, until foamy.
Lower the speed of the mixer and add warm milk.
Gradually add flour mixture and beat for about 2 minutes.
Let the batter rest at room temperature for about an hour.
Preheat oven to 450ºF/230ºC.
Spray popover pan generously with nonstick spray.
Fill popover cups almost to the top with batter and place popover pan on cookie sheet.
Transfer to oven and bake for 15 minutes.
Turn oven down to 375ºF/190ºC and bake for 30 to 35 minutes longer, until popovers are deep golden brown.
Remove from oven and remove popovers onto a cooling rack.
Serve hot with strawberry butter:

To make the strawberry butter, simply place butter into bowl and beat until smooth, add preserves and beat until fluffy. Add mixture into a ramekin and cool until ready to serve.
Notes
Add any additional notes here.