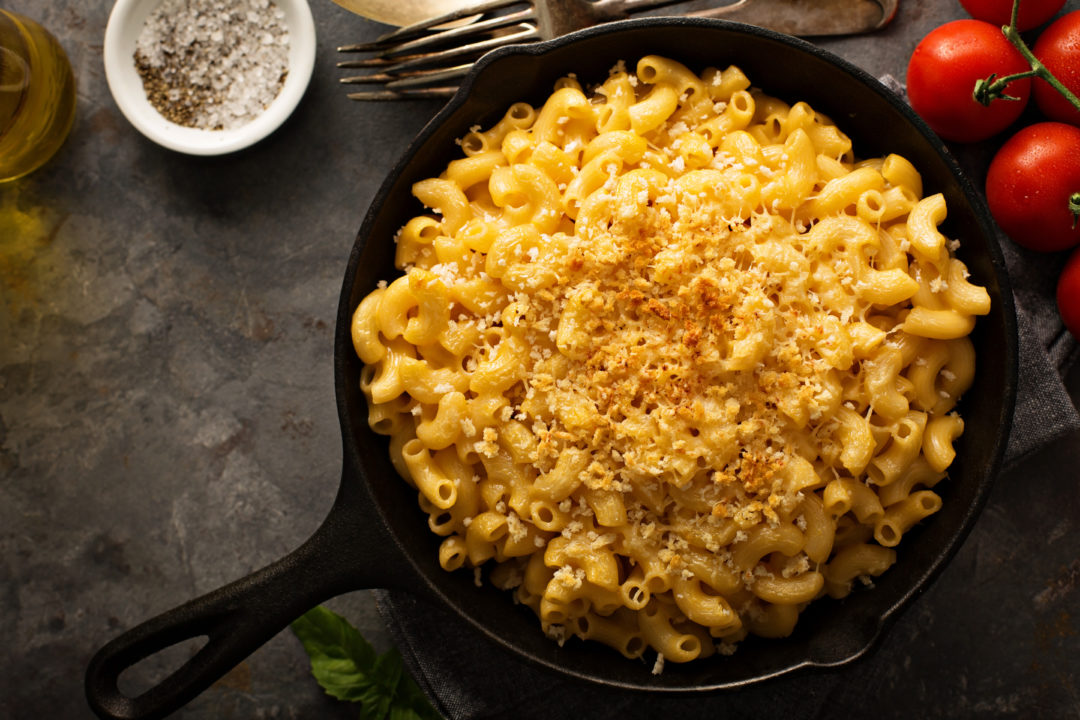 A family favorite, this indulgent and creamy mac and cheese is sure to please everyone.
It's chock full of cheese, cream, and butter, so you know it has to be good! A versatile and fun dish – this mac and cheese is perfect for a warm summer barbecue or a cold winter night. I use sharp cheddar and Gruyere, but you can get creative. Use a swiss cheese, or a mild cheddar. Totally up to you, and the ratios really don't need to change.
Once you enjoy this easy and quick homemade mac and cheese you'll NEVER make that stuff out of a box again. Ever.
Homemade Mac and Cheese
TOTAL TIME: 45 MINUTES
PREP: 25 MINUTES | COOK: 20 MINUTES
YIELD: 8-10 SERVINGS
LEVEL: EASY
Ingredients
1 pound/450 grams dried pasta (best if elbow shaped, but you can be creative)
8 Tbsp (1 stick)
8 Tbsp plain/all-purpose flour
3 cups milk (1%, 2%, or Whole)
1 cup heavy cream
4 cups shredded sharp cheddar cheese (you can use any cheese you like)
½ Tbsp salt
¼ tsp paprika
Heaping handful of Panko crumbs
Instructions
Preheat your oven to 325ºF/160ºC.
Grease a 3 quart baking dish and set aside. I use either a glass 9×13 dish, or even better, a 3qt cast iron skillet.
Boil a large pot of water, salted. Once the water is at a rolling boil, add your pasta and cook al dente – about a minute or so less than the instructions indicate.
While the pasta is boiling, grate your cheeses (of course, you can do this ahead of time as well). Once you have grated both your cheeses, combine on the board. You can certainly use pre-shredded cheese, though be prepared they don't all melt the same way. Some cheeses have a coating that will cause them to "clump" when melted. I often use shredded Cabot or Tillamook sharp/Vermont cheddar, and they seem to melt beautifully.
Make a roux using the flour and butter. First, melt the butter in a large skillet or saucepan over a medium heat. Once the butter is melted completely, whisk in the flour. Cook the roux for about four or five minutes. You're going to cook out any raw flour smell, but finish before it turns too golden, or gives off a nutty aroma. This white roux is perfect for this dish.
Once the roux is complete, slowly pour in about half the milk/cream mixture – whisking constantly. It will appear lumpy at first, just keep whisking. Once the mixture is smooth, add the remaining milk mixture slowly – again whisking constantly to ensure creaminess.
Continue cooking over medium heat. Be sure to whisk often. We want the roux to work to thicken the sauce, but we don't want it to become lumpy. Once you are satisfied with the consistency and thickness (think of condensed milk), stir in spices and the cheese. Add the cheese in sections, to ensure it is thoroughly mixed and melted. Stir in and melt all the cheese.
Pour the sauce over the cooked pasta in a large mixing bowl. Stir gently to combine. Pour the sauce covered pasta into your cooking dish or cast iron skillet. Sprinkle a handful of Panko breadcrumbs on top of the pasta (as much or as little as you'd like). Sprinkle some paprika on top of the breadcrumbs and place in the preheated oven.
Cook for about 15-20 minutes, until the breadcrumbs are nice and brown the the cheese is bubbling. If you'd like the Panko to be a bit more toasted, broil for a couple minutes, but watch it closely – don't let them burn!
Remove, serve, and don't even think about the calories!
Notes
The Panko is completely optional, but I think it gives a very nice texture.