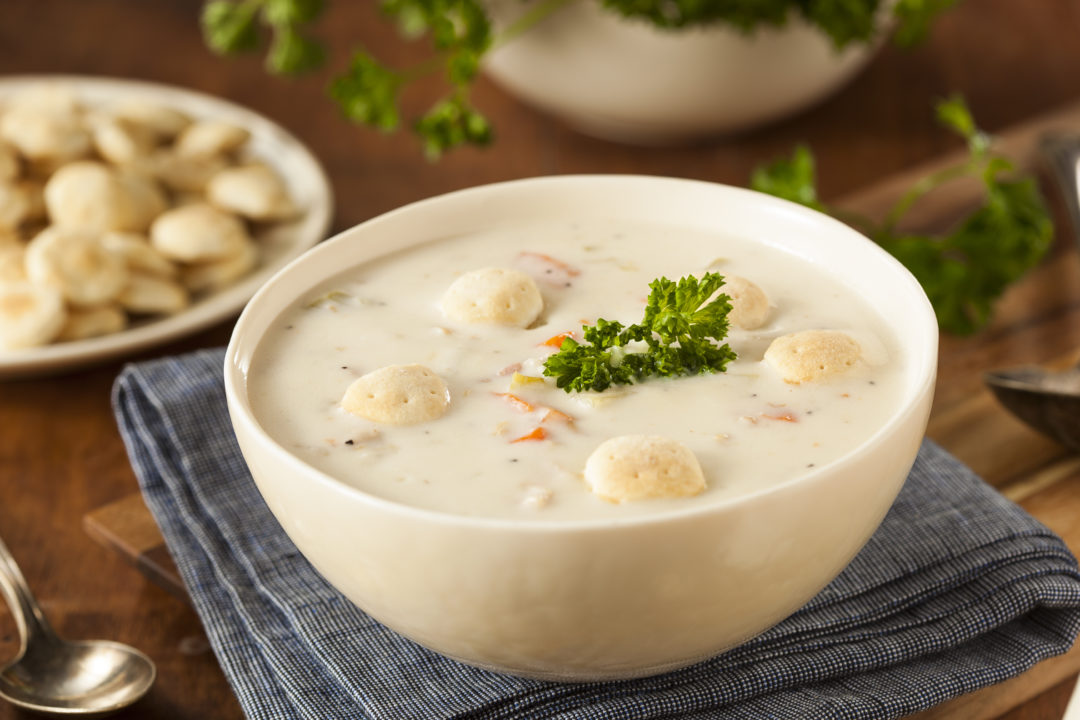 Clam chowder is one of several chowders containing clams and broth. Along with the clams, diced potato is common, as are onions, which are occasionally sautéed in the drippings from salt pork or bacon. While other vegetables are uncommon, small carrot strips might occasionally be added, primarily for color. Note, our recipe does not include carrots, as we feel it gives it a slightly different flavor, and detracts from the clam.
There are many varieties of clam chowder (Manhattan, Rhode Island, New Jersey and others). We prefer the tried and true New England clam chowder, which is a milk or cream-based chowder, and is traditionally of a thicker consistency than other regional styles, commonly made with potatoes, onion, and clams. New England clam chowder is usually accompanied with oyster crackers, and our recipe suggests a small garnish of crisp bacon. On a chilly winter evening, enjoy this delicious and easy chowda!
New England Clam Chowder
TOTAL TIME: 1 HOUR
PREP: 25 MIN | COOK: 35 MIN
YIELD: 5 SERVINGS
LEVEL: EASY
Ingredients
4 center-cut bacon strips
2 celery ribs, chopped
1 large onion, chopped
1 garlic clove, minced
3 small potatoes, peeled and cubed
1 cup water
1 bottle (8 ounces/235 ml) clam juice
3 teaspoons reduced-sodium chicken bouillon granules
1/4 teaspoon white pepper
1/4 teaspoon dried thyme
1/3 cup all-purpose flour
2 cups fat-free half-and-half, divided
2 cans (6-1/2 ounces/190 ml each) chopped clams, undrained. Fresh is always better, but depending on where you live, canned clams will do!
Instructions
In a Dutch oven, cook bacon strips over a medium heat until crisp. Remove bacon to paper towels, but leave the bacon drippings in the pan. Saute celery and onion in the bacon drippings until tender. Add the minced garlic an cook an additional minute or so. Stir in the potatoes, water, clam juice, bouillon, pepper and thyme. Bring to a boil. Reduce heat and simmer, uncovered, for about 20 minutes or until potatoes are tender.
In a small bowl, combine flour and 1 cup half-and-half until smooth. Gradually stir into soup and bring to a boil; cook and stir for 1-2 minutes or until thickened.
Stir in clams and remaining half-and-half; heat through, but do not boil.
Add some fresh parsley and oyster crackers for garnish, and enjoy a little taste of New England.
Notes
To add a little extra kick, crumble the bacon and add that to the top of the soup. Once you try it, you may never go back!
Additionally, as is traditional in many New England pubs and restaurants, try adding a bit of sherry to the soup when you serve it. The sherry really makes the clams sing.