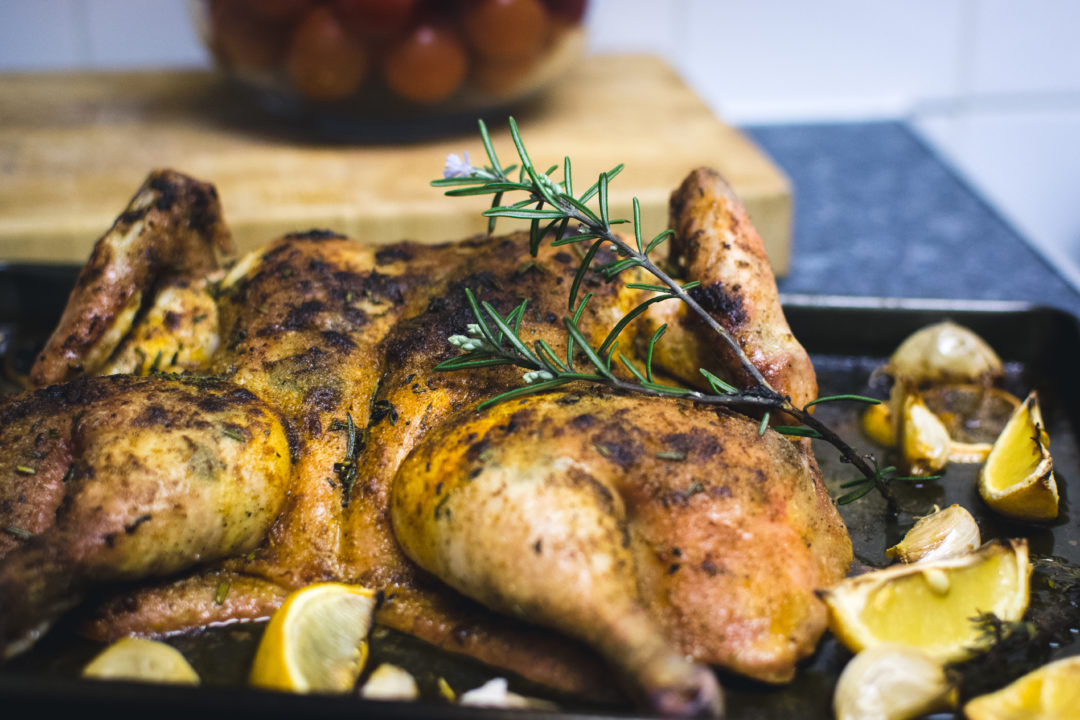 This wonderful roast chicken requires a little finesse with the spatchcock technique. Otherwise, it's a very simple recipe, with only a few key ingredients. It's juicy, delicious and full of flavor.
Lemon and Shallot Roasted Spatchcock
TOTAL TIME: 1 HR 15 MIN
PREP: 25 MIN | COOK: 50 MIN
YIELD: 1 CHICKEN, 4 SERVINGS
LEVEL: INTERMEDIATE
Ingredients
1 whole chicken (about 3-4 pounds/1.5 -2 kg)
2 tablespoons extra-virgin olive oil
Coarse sea salt
Fresh ground pepper
2 thin sliced lemons
6 small shallots, sliced
4 sprigs rosemary
Instructions
Preheat oven to 425F/220C. Place the chicken, breast side down, on your working surface or cutting board. Starting at thigh end, cut along 1 side of backbone with kitchen shears. Turn chicken around; cut along other side. Discard backbone or save for stock. Flip chicken, and open it like a book. Press firmly on breastbone to flatten.
Rub chicken with 1 tablespoon oil, and season with 1 tablespoon salt and 1/2 teaspoon pepper. Oil the center of a baking sheet over an area slightly larger than the chicken, and place half the lemon slices in a single layer on top of oil. Place chicken, skin side up, on lemons. Beginning at the neck end of breast, carefully loosen skin from flesh of breast and thighs with your fingers. Slide remaining lemon slices under skin in a single layer. Add two sprigs of rosemary to top of chicken.
Roast chicken 20 minutes. Toss shallots with remaining teaspoon oil, and scatter around chicken. Continue to roast chicken until a thermometer inserted into thickest part of breast reaches 165F/75C, 25 to 30 minutes more.
Transfer chicken to a carving board, and let rest 10 minutes. Cut chicken into 8 pieces, and serve with roasted lemons, shallots, and pan juices. Add additional rosemary for garnish.
Notes
Add a little crushed garlic before baking to give the dish a bit of extra kick!