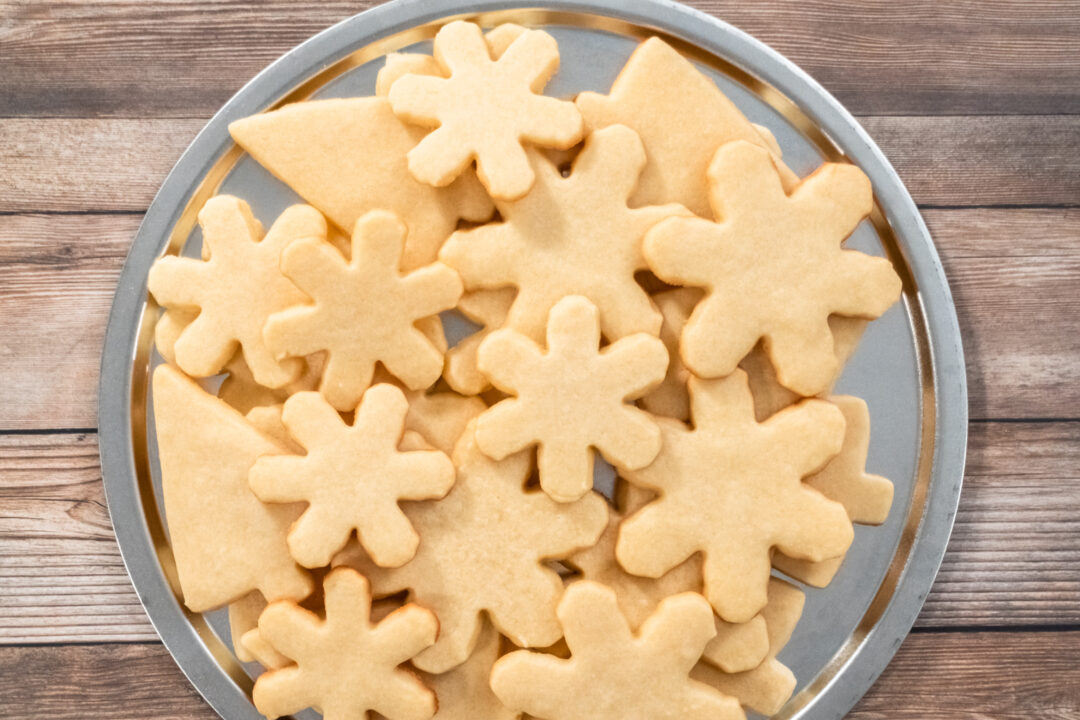 These sugar cookies are the perfect texture and require absolutely no chilling of the dough. You can literally pop them in the oven just after mixing and cutting them out. These cookies keep their shape beautifully, and are ready in under 10 minutes!
Super easy, delicious, and sure to be a crowd-pleaser.
Sugar Cookies
TOTAL TIME: 38 - 40 MINUTES
PREP: 30 MINUTES | COOK: 8 - 10 MINUTES
YIELD: 36 COOKIES
LEVEL: BEGINNER
Ingredients
1 Cup/226g salted sweet cream butter
1 Cup/200g granulated white sugar
1 teaspoon vanilla extract
1/2 teaspoon almond extract
1 egg, room temperature
2 teaspoons baking powder
1/2 teaspoon salt
3 cups/360g all purpose/plain flour
Instructions
Preheat oven to 350°F/176°C

In the bowl of your mixer, cream butter and sugar until smooth, at least 3 minutes

Beat in extracts and egg.

In a separate bowl, combine baking powder and salt with flour.

Once thoroughly mixed, add a little at a time to the wet ingredients.

Mix until the dough pulls away from the sides of the bowl. You don't want to overmix, but the dough should not be crumbly.

If the dough still looks too dry or stiff for your mixer, turn out the dough onto a countertop surface, flour surface as needed. Wet your hands and finish off kneading the dough by hand.

DO NOT CHILL THE DOUGH. Divide in half. Roll out to about 1/4 inch onto a floured surface, and cut out using your favorite cookie cutter shapes.

Bake at 350 for about 8 minutes. Let cool on the cookie sheet until firm enough to transfer to a cooling rack.
Notes
I like to add almond extract, but you can easily swap for lemon, peppermint, or none at all – just use vanilla. It's completely up to you!