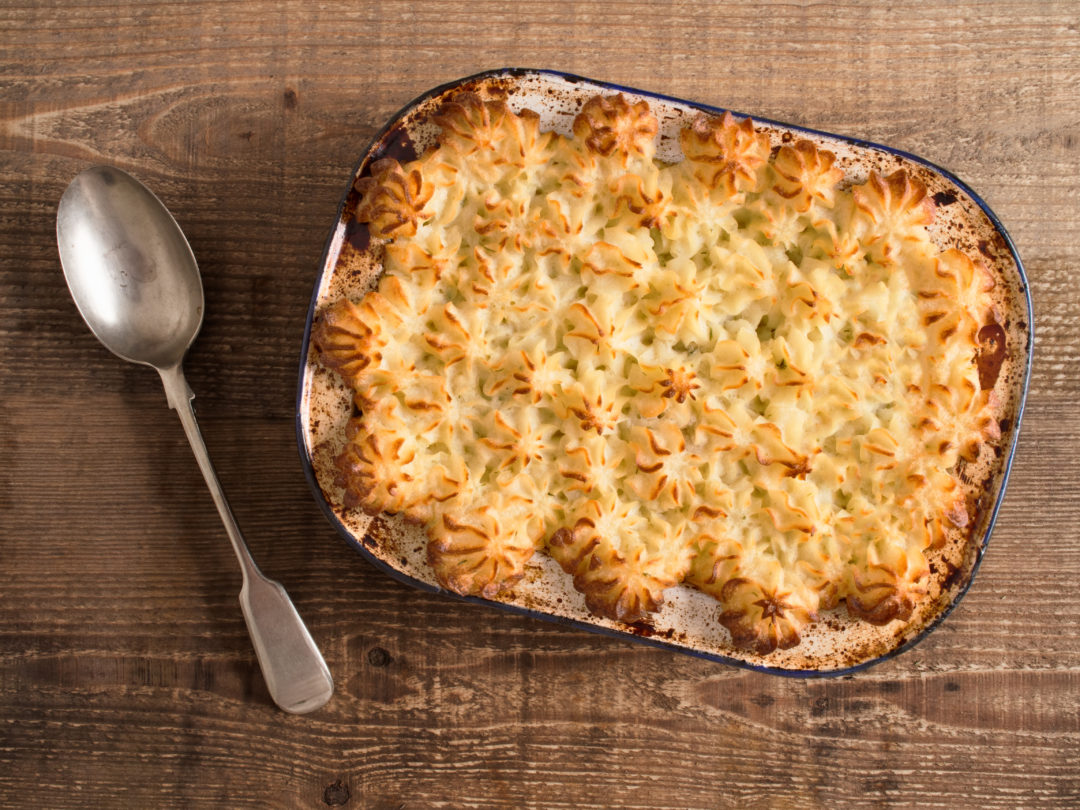 Sometimes called a Cottage Pie, the Shepherd's Pie is a warm, hearty dish of ground meat (traditionally lamb, but I prefer veal or beef), onions, carrots, peas and topped with toasted mashed potatoes. The term cottage pie was in use by 1791, when the potato was being introduced as an edible crop affordable for the poor.
In early cook books, the dish was a means of using leftover roasted meat of any kind, and the pie dish was lined with mashed potato as well as having a mashed potato crust on top. It was originally brought to England by the Irish.
The term "shepherd's pie" did not appear until 1877, and since then it has been used synonymously with "cottage pie", regardless of whether the principal ingredient was beef or mutton. More recently, some people have used the term "shepherd's pie" when the meat is lamb the theory being that shepherds are concerned with sheep and not cattle.
I would suggest that you serve this dish in individual ramekins, though it can easily be done in a larger serving dish (as pictured). It's a hearty, historic and fun dish.
Oh, and don't forget a lovely glass of Merlot with your Shepherd's Pie.
Hearty Shepherd's Pie
TOTAL TIME: 1 HR 30 MIN
PREP: 45 MIN | COOK: 45 MIN
YIELD: 8 SERVINGS
LEVEL: INTERMEDIATE
Ingredients
For the potatoes:
1 1/2 pounds/680 grams russet potatoes
1/4 cup cream
2 ounces/60 ml unsalted butter
3/4 teaspoon kosher salt
1/4 teaspoon freshly ground black pepper
1 egg yolk
For the meat filling:
2 tablespoons oil
1 cup diced onion
2 carrots, peeled and diced
1 clove garlic, minced
1 pound/500 grams ground veal
1 pound/500 grams ground lamb
1 teaspoon kosher salt
1/2 teaspoon freshly ground black pepper
2 tablespoons all-purpose flour
2 teaspoons tomato paste
1 cup chicken broth
1 teaspoon Worcestershire sauce
2 teaspoons rosemary, chopped
1 teaspoon fresh thyme
1/2 cup fresh or frozen corn kernels
1/2 cup fresh or frozen peas
Instructions
Peel the potatoes and cut into 1/2-inch cubes. Place in a medium saucepan and cover with cold water. Set over high heat, cover and bring to a boil. Once boiling, uncover, reduce to a simmer and cook until tender and easily crushed with tongs, approximately 10 to 15 minutes. Drain the potatoes in a colander and then return to the saucepan. Mash the potatoes and then add the cream, butter, salt and pepper and continue to mash until smooth. Stir in the yolk until well combined.
Preheat the oven to 400F/205C.
While the potatoes are cooking, prepare the filling. Place the oil (canola or vegetable) into a 12-inch saute pan and set over medium high heat. Once the oil shimmers, add the onion and carrots and saute just until they begin to take on color, approximately 3 to 4 minutes. Add the garlic and stir to combine. Add the meat (I prefer veal and beef, but traditionally this recipe would use lamb), salt and pepper and cook until browned and cooked through, approximately 3 minutes. Sprinkle the meat with the flour and toss to coat, continuing to cook for another minute. Add the tomato paste, chicken broth, Worcestershire, rosemary, thyme, and stir to combine. Bring to a boil, reduce the heat to low, cover and simmer slowly 10 to 12 minutes or until the sauce is thickened slightly.
Add the corn and peas to the meat mixture and spoon into oven safe bowls or ramekins. Top each ramekin with the mashed potatoes. To ensure that the potatoes brown and crisp, ensure the mash has height. I like to use a piping bag, but it's up to you. Place on a parchment lined half sheet pan on the middle rack of the oven and bake for 25 minutes or just until the potatoes begin to brown. If needed, broil for a couple of extra minutes – but watch closely so the potatoes don't burn. Remove to a cooling rack for at least 10 minutes before serving.
Notes
If you are able to find it, I suggest that you use a thickened cream, such as a delicious version sold by The Brooklyn Creamery.