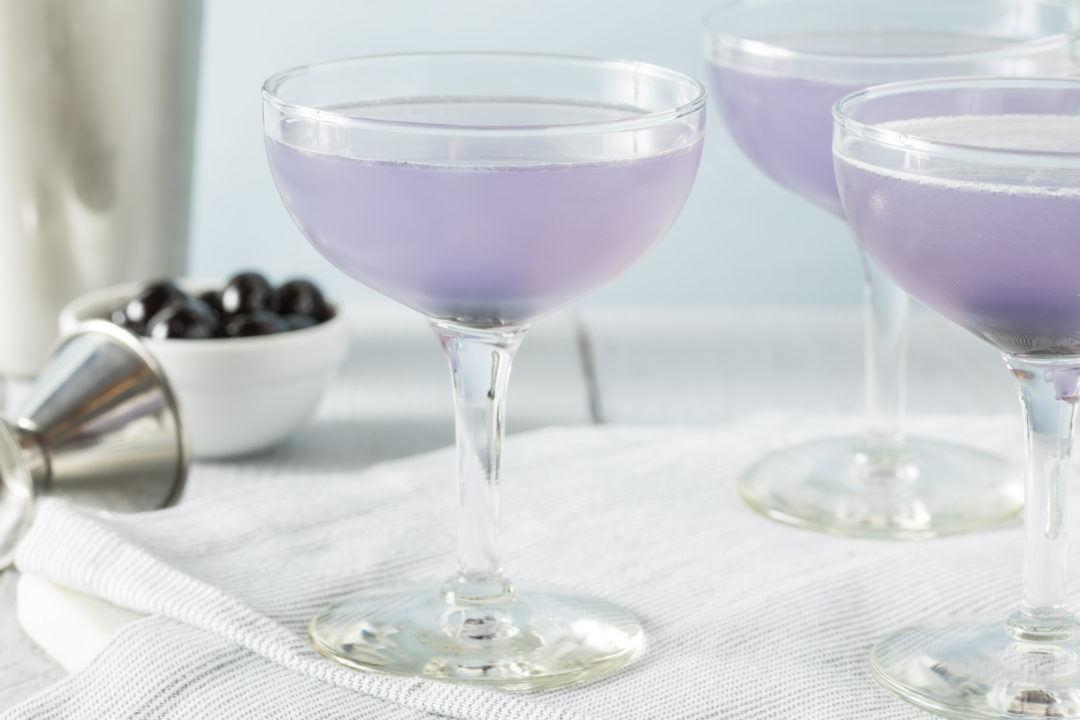 One of my absolute favorite cocktails in the 1930's-era Aviation. The cocktail – always served up – has a sultry grey-blue tinge, thanks to the addition of the all-to-unknown Crème de Violette. It evokes a bygone era, where a drink was simple, but thoughtful. No gimmicks or trends, just a few basic ingredients, mixed perfectly together to present a delicious, interesting cocktail, full of class and intrigue. Be warned – it's pale blue colour shouldn't fool you – this cocktail means business.
As a note – for forty years, the Aviation (in American bars) was served without the Crème de Violette. A disgrace to this elegant cocktail, in our humblest of opinions. Without the splash of Crème de Violette, you end up with a lovely(ish), but very sour, cocktail. You rid the glass of any panache or intrigue, and instead just end up with a lemony martini. We'll pass.
Do up your seat belts, raise your tray tables, and enjoy a Pan-Am-era Aviation!
Aviation Cocktail
TOTAL TIME: 5 MINS
PREP TIME: 5 MINS
SERVES: 1
Ingredients
1 ½ ounces/45ml good quality gin
½ ounce/15ml fresh lemon
¾ ounce/22ml Luxardo (Maraschino liqueur)
¼ ounce/7ml Crème de Violette
Instructions
Combine all ingredients in a cocktail shaker with a cup of ice. Shake vigorously for about 10 seconds and strain into a chilled martini glass.
Notes
Garnish with a Luxardo maraschino cherry.
We like to serve this in a vintage martini glass – it preserves the charm of this 1930's-era cocktail.